by
Hacksaw_64
1 month ago
Total posts: 2481
Joined: Sep 08 2015
Sierra Madre, CA
---
according to the chart:
the Rams have eight picks and a total of 1062 points
the Rams best spot on the chart is #23 in the 1st
If the chart's points represents fair value, then the Rams should be able to trade all 8 picks, move up to #14 overall and come out ahead.
THREE QUESTIONS
Suppose Green Bay offers their #14 (1100 pts) overall for all eight of our picks (1062)... do we accept the trade

Suppose Cleveland offers their #1 (3000 pts) overall for all eight of our picks ... do we accept?
If a "bird in the hand" is worth two in the bush ... do we accept a 2018 #1 overall and a 2019 #1 overall for Aaron Donald?
---------------------------------
I say "NO" to all three trades. Makes me question the validity of the chart's point values
---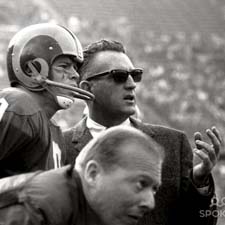 by
Legends
1 week ago
Total posts: 112
Joined: Feb 17 2016

LA Coliseum
---
I remember Les Snead saying he does better after the top rounds. Mark what I say he will trade out of the first round for more picks. Really how sure of a thing is the guy you get at 23 ?
---
3 posts
It is currently Feb 20 2018