cut and paste from the media room ... nothing deleted
ARI: Cardinals signed GM Steve Keim to an extension through 2022.

CAR: MLB Luke Kuechly underwent surgery on his right shoulder after the season.

CIN: reports the Bengals are focused on signing contract-year DE Carlos Dunlap and DT Geno Atkins to an extension before Week 1.

DAL: reports the Cowboys may move Byron Jones to corner in 2018.
DAL: could show interest in S-K.Vaccaro(NO).
DAL: Cowboys EVP Stephen Jones said that one of their top priorities is to re-sign free agent LB Anthony Hitchens.

DEN: sources expect the Broncos to place a second-round tender on restricted free agent OLB Shaq Barrett.
DEN: Broncos can save $11 million in salary cap space by releasing CB Aqib Talib.

HOU: C.J. Fiedorowicz (concussions) admits he is considering retirement.

IND: hired Eagles OC Frank Reich as head coach.
IND: hired Chargers WRs coach Nick Sirianni as offensive coordinator.
IND: Colts are moving OLB Jabaal Sheard to defensive end.

KC: A 19-year-old woman has accused Kareem Hunt of "shoving and pushing" her in downtown Cleveland over the weekend.
KC: Chiefs SS Eric Berry (Achilles) to be ready for Week 1.

MIN: LG Nick Easton (ankle) expects to be ready for training camp.

NCAA: one NFC scout who believes Ohio State T Jamarco Jones is "safer" than Notre Dame T Mike McGlinchey.
NCAA: Georgia RB Sony Michel fumbles the ball every 54.6 times he touches the football.
NCAA: reports that Alabama could be targeting former ECU QB Gardner Minshew.
NCAA: Multiple outlets are reporting that Jim McElwain is a strong candidate to become the new WR coach at Michigan.
NCAA: Alabama's board of trustees has approved a proposal for a $2 million recruiting lounge.
NCAA: New Mexico HC Bob Davie has appealed his 30-day suspension.
NCAA: Michigan State senior RB Madre London will transfer as a graduate.
NCAA: Iowa State redshirt senior QB Kyle Kempt has been granted a sixth year of eligibility by the NCAA.
NCAA: LSU OC Steve Ensminger said that sophomore QB Myles Brennan will open spring practice taking reps with the first-team offense.

NE: reports it could be a "challenge" for LB David Harris to stick on the Patriots' roster.
NE: DT Alan Branch is owed a $1 million roster bonus on the first day of the 2018 league year.
NE: TE Dwayne Allen will "be challenged to return" to the Patriots at his current salary.

NFL: HOU & CHI have met w/ DB-D.Amerson.
NFL: reports free agent Vontae Davis (core muscle surgery) has been medically cleared.

NYG: Giants are expected to prioritize re-signing free agent OL Justin Pugh.

PHI: reports TE-B.Celek may retire.
PHI: RBs coach Duce Staley and WRs coach Mike Groh are the "top in-house candidates" to take over the Eagles' offensive coordinator job.
PHI: sources expect the Eagles to prioritize re-signing free agent WLB Nigel Bradham.

PIT: RG David DeCastro and DE Stephon Tuitt has restructured his contract. The moves creates $13.26m in cap.

SEA: SS Kam Chancellor's 2018 salary is fully guaranteed after the team kept him on its roster past February 9.

SF: MLB Reuben Foster is accused of dragging his girlfriend during an argument that led to his arrest for domestic violence.
SF: 49ers are not expected to re-sign free agent CB Dontae Johnson.
SF: 49ers have interest in free agent CB David Amerson.
SF: reports the 49ers have discussed an extension with impending free agent C Daniel Kilgore.

TB: The agent for Mike Evans said he and the Bucs are not currently negotiating a new deal.

WAS: S Su'a Cravens has filed for reinstatement from the team's reserve/left squad list.
---
I like this frequent report. Never much Rams going on tho...
---
THE GREATEST SHOW ON TURF, WAS
THE LOS ANGELES RAMS RIDE AGAIN
---
Hacksaw wrote:I like this frequent report. Never much Rams going on tho...
I don't know if there are certain media sources they monitor or if a secretary pulls in stories from a google search
---
BUF: hired ex-Titans OC Terry Robiskie as WRs coach.
BUF: has interest in re-signing LB-P.Brown.
BUF: QB-T.Taylor could be a cap casualty.

CHI: team likely to release QB-M.Glennon.

CIN: signed OT Bobby Hart, formerly of the Giants, to a one-year contract.

DAL: reports that the Dallas Cowboys will hire former Florida OC Doug Nussmeier to serve as tight ends coach, a change of course from earlier reports that had him heading to LSU.
DAL: WR-D.Bryant could be a cap casualty.

DEN: team likely to trade or release HB-CJ Anderson.

DET: team could show interest in HB-D.Lewis.

GB: WR-R.Cobb or WR-J.Nelson could be a cap casualty.

HOU: DL Christian Covington (arm) has been cleared for football activities.

KC: team will not re-sign LB-D.Johnson.

LAC: OG Forrest Lamp (knee) is on track for training camp.

LV/OAK: reports now suggesting team could keep WR-M.Crabtree.
LV/OAK: team will not re-sign K-S.Janikowski.

MIA: reports "confidants of [Dolphins owner] Stephen Ross" informed him that Ross "was ready to move on" from DT Ndamukong Suh.

MIN: team could be active in trading WR-L.Treadwell.

NE: FS Devin McCourty had shoulder surgery this offseason.
NE: team not likely to re-sign HB-D.Lewis.

NFL: Former first-rounder Johnny Manziel has agreed to terms to play in the Spring League in April.

NYG: DB-DRC could be a cap casualty.
NYG: hired Mike Shula as offensive coordinator.

NYJ: hired Rick Dennison as their run-game coordinator/OL coach.
NYJ: team set to release DL-M.Wilkerson.

PHI: re-signed OT Taylor Hart.

SF: Multiple outlets are reporting that FAU DC Chris Kiffin will take a position on staff with the San Francisco 49ers.
SF: some posible players team may not retain: S-E.Reid, DE-A.Lynch, DL-T.Carradine .
SF: re-signed OL-D.Kilgore to a 3yr extension.

TEN: HB-D.Murray could be a cap casualty.

WAS: S Su'a Cravens has been reinstated from the reserve/left squad list.
---
by
dieterbrock
6 months ago
Total posts: 8069
Joined: Mar 31 2015

New Jersey
---
Must be a long day at the facilities ... here's the (2/15/18) afternoon updates from the media/press room.
ARI: WR-L.Fitzgerald will return for the 2018 season. He'll make a little over $15m.

BUF: set to host DB-V.Davis today.

CHI: team expected to tender RFA WR-C.Meredith.
CHI: team more likely to re-sign WR-K.Wright over WR-M.Wheaton.
CHI: DB-K.Fuller to test FA unless he gets tagged.

DAL: reports that if a deal isn't reached within a time frame w/ team, DL-D.Lawrence will get tagged.

DEN: DE Derek Wolfe said his neck is "fixed."

JAX: Allen Robinson (ACL) said his injury is "not really an issue" for his upcoming free agency.
JAX: DB-A.Colvin is set to test the FA market.

(Bruce Irving tweet is deleted from this cut-n-paste)

NFL: reports free agent K Sebastian Janikowski plans to continue his career.

PIT: rumors team will look @ an apy of $13m for HB-L.Bell. If a deal isn't done, they could tag him.

SF: updating a previous report, OL-D.Kilgore's 3yr deal was for $12m w/ $7m gtd.

WAS: QB-K.Cousins to file grievance if tagged again.
---
This is as good a thread as any for this video I guess:
2018 projected strength of schedule for every team
---
In the event of my death tell Kay Adams I love her.
---
So how does this ranking system work?





---
THE GREATEST SHOW ON TURF, WAS
THE LOS ANGELES RAMS RIDE AGAIN
---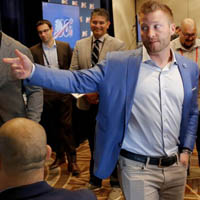 by
Elvis
6 months ago
Total posts: 17124
Joined: Mar 28 2015

Los Angeles
---