Saw this topic on another board and thought it a good conversation. With 7 new HC's being hired and the seemingly large number of FA QB's and highly touted draft picks to go along with all the new OC's out there, it's going to likely be a busy offseason with many QB's in new places. Which teams do you think will make a change? What change will they make?
--- ---
It seems like I'm forgetting a name or two and I'm woefully uninformed about the draft but here's my first stab at it:

Cleveland - they're so unpredictable it's hard to say. IMO, they've got some talent to work with on offense and would be wise to go after a solid vet QB. But, they'll likely draft a QB so I'll say Sam Darnold. Hue seems enamored with Kizer so he'll keep him on as a bridge/insurance. Which makes no sense, but for Cleveland...

Denver - With Musgrave taking over as OC, not sure what he thinks of their current stable. I imagine he will be forced to upgrade and the Broncos have been talked about as a Cousins landing spot. I think the price tag is too high though and Elway decides not to break the bank again. It's one thing to do it for Peyton, but Cousins? Elway still wants a name so he reunites Musgrave with Foles from their time in Philly together and Denver gets a SBMVP QB.

New York Giants - Shurmur has already said that he's looking forward to working with Eli but I think Coughlin in Jacksonville wants to win now. He makes the Giants an offer, which I don't think will have to be substantial and Shurmur and new OC Shula start fresh and draft a QB. Rosen? They bring in one of Shurmur's QB's from Minny to bridge to the future. I say Keenum.

New York Jets - Cousins, IMO, is all about the money. He wants as much as possible even though he's said that he'll take less to win sooner. The way he's done things with the Redskins though...I say he ultimately just takes the biggest contract and I think the Jets are the most willing(desperate) to pony up.

Arizona - Don't think the Cardinals are able to really compete with the big contracts out there but they do have a starting job to offer. Denver QB's will be available for cheap but I think they go with a prove it deal to Sam Bradford and draft a QB hopefully for the future.

Miami - I think they go back to Tannehill and Cutler hangs 'em up for good this time.

Buffalo - with Eli in Jacksonville, the Bills will scoop up Bortles. I have no idea what they're planning with Brian Daboll as OC but I have to assume it's going to revolve heavily around the running game. Hate to be negative but it seems like a really terrible hire to me. But, Bortles is a guy who can run and has done his best when just handing it off and not throwing it too much. Why not just keep Tyrod? He's ready to move on and get a shot in a real offense somewhere.

Minnesota - I think Keenum was a feel good story but the Vikings and HC Zimmer are in love with Teddy Two Gloves. Out of the three FA QB's, they stick with the most familiar face. As insurance they bring in Tyrod Taylor.

Jacksonville - As already mentioned, I think Coughlin wants a more...yes, I'll say it, consistent QB and brings in Eli. Which just illustrates how all over the place Bortles was. But, whatever else there is about Eli, he shows up in the big games and that's when Jacksonville will benefit. Their running game and defense will get them to the playoffs, they just need a pro QB to get them over the hump once they're there.
--- ---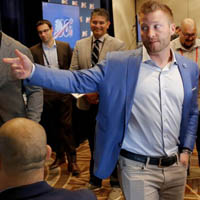 by
Elvis
6 months ago
Total posts: 17120
Joined: Mar 28 2015

Los Angeles
---
Seems like most of the buzz on Cousins is Denver or Minnesota but who knows, gonna be fun to watch it all shake out.

It's weird that the Rams aren't part of the commotion, takes some getting used to...
---
I just want teams to freak out and over draft QB s in the first round, pushing better players down the board to us

. the F/As at QB are meh to me. And I don't think Eli is going anywhere, nor Bortles.
---
ramsman34 wrote:I just want teams to freak out and over draft QB s in the first round, pushing better players down the board to us . the F/As at QB are meh to me. And I don't think Eli is going anywhere, nor Bortles.
Agree. I think Eli stays w the Giants. For better or worse.
---
When you get to Helllll, John. Tel em Daisy sentcha.
---
So Vikings are out on Keenum, might be in on Cousins and Bortles re-signs in Jax....
Been a whacky 48 hours, surely just the beginning!
---