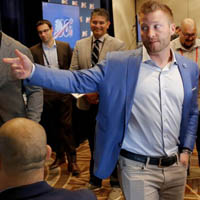 by
Elvis
6 months ago
Total posts: 17120
Joined: Mar 28 2015

Los Angeles
---
2018 NFL strength of schedule: Texans have it easiest, Packers face roughest ride
Here are the strength of schedule rankings for all 32 teams heading into the 2018 season
John Breech
@johnbreech
Feb 12, 2018 • 5 min read
If you're looking for a team that might go from last place to Super Bowl winner in a span of just one season -- like the Eagles did between 2016 and 2017 -- then you might want to start taking a serious look at the Houston Texans.
Not only are the Texans expected to get Deshaun Watson and J.J. Watt back from injury, but they're going to have at least one more thing going in their favor in the upcoming season: They'll be playing the the NFL's easiest regular-season schedule in 2018. At least based on 2017 standings.
Of Houston's 16 games in 2018, six of them will come against teams that won five or fewer games in 2017, including two games against the Colts (4-12) and one against the Browns (0-16). The Texans will also get five games against teams that will be heading into 2018 with a new coach.
Collectively, every team in the AFC South actually has a pretty easy strength of schedule in 2018, with all four teams set to play a schedule that ranks among the 10 easiest. Of course, it won't be all fun and games for the AFC South in 2018, because that's the only division where every team will have to play both participants from Super Bowl LII. The Vikings are the only other team that will play both the Patriots and Eagles in 2018.
Although the Vikings will be playing both Super Bowl teams, they don't have the most difficult schedule in the NFC North. That honor belongs to the Packers, who will be heading into 2018 with the roughest schedule in the NFL. As a matter of fact, pretty much every team in the NFC North will be facing a difficult schedule next season with all four teams set to play one of the eight toughest schedules.
To give you an idea of how hard things are going to be in the NFC North, just look at Detroit's home schedule. In 2018, the Lions will host the Packers, Vikings, Rams, Seahawks, Panthers and Patriots. Good luck, Matt Patricia.
The Packers might have the most difficult schedule, but the award for the most stacked schedule probably goes to the Buccaneers, Ravens or Saints. All three of those teams will be playing a total of eight games against teams that made the playoffs in 2017. That means HALF THEIR SCHEDULE is against playoff teams.
One guy who might be able to pull of a quick turnaround during his first year as coach is Jon Gruden. Not only do the Raiders have one of the three easiest schedules heading into 2018, but they have a total of only four games against playoff teams from 2017, which is a tied for a league-low. Jimmy Garoppolo and the 49ers will also be going up against only four playoff teams from 2017.
Before you complain about another team's strength of schedule or that the Patriots seem to have an easy schedule every season, keep in mind that all 32 teams play the exact same schedule in terms of the 2017 NFL standings.
That means that in the 2018 season, all 32 teams will play four games against a division-winner from 2017, four games against a team that finished second, four games against a third-place team and four games against a fourth-place team. And that's your 16-game schedule.
The NFL scheduling formula is almost as perfect as the Pythagorean theorem, and we'll show you how it's put together at the bottom of the page.
Actually, ignore that whole thing about not complaining, because Browns fans might want to file a complaint or two next season. After going 0-16 in 2017, the Browns will be getting stuck with the fifth-most difficult schedule in the NFL for 2018. Sometimes, life isn't fair.
Oh, and here's one more weird nugget: The 10th spot in the strength-of-schedule rankings has ended up predicting the Super Bowl champion in three of the past four years. The Patriots (2014), Broncos (2015) and Eagles (2017) all ranked exactly 10th in strength of schedule before winning the Lombardi Trophy.
In 2016, the Patriots didn't rank 10th when they won the Super Bowl, but they did rank one spot away at ninth. This could be good news for the Bears, Vikings, Giants or Panthers, who are all tied in the 8-through-11 slots below.
Here's the 2018 strength of schedule rankings for each team (combined 2017 record of all 16 opponents, combined winning percentage):
Rank
Opponents' combined 2017 record
Opponents' combined 2017 win percentage
1
Green Bay Packers
138-118
.539
T-2
Detroit Lions
137-119
.535
T-2
New Orleans Saints
137-119
.535
4
Tampa Bay Buccaneers
136-120
.531
T-5
Cleveland Browns
134-122
.523
T-5
Los Angeles Rams
134-122
.523
T-5
Seattle Seahawks
134-122
.523
T-8
Arizona Cardinals
133-123
.520
T-8
Chicago Bears
133-123
.520
T-8
Minnesota Vikings
133-123
.520
T-8
New York Giants
133-123
.520
12
Carolina Panthers
131-125
.512
13
Atlanta Falcons
130-126
.509
14
Washington Redskins
129-127
.504
T-15
San Francisco 49ers
128-128
.500
T-15
Dallas Cowboys
128-128
.500
T-15
Miami Dolphins
128-128
.500
18
Buffalo Bills
127-129
.496
T-19
Philadelphia Eagles
126-130
.492
T-19
Kansas City Chiefs
126-130
.492
21
Baltimore Ravens
125-131
.488
T-22
New England Patriots
124-132
.484
T-22
Indianapolis Colts
124-132
.484
24
Los Angeles Chargers
123-133
.480
T-25
New York Jets
122-134
.477
T-25
Pittsburgh Steelers
122-134
.477
T-25
Jacksonville Jaguars
122-134
.477
T-25
Denver Broncos
122-134
.477
T-29
Oakland Raiders
121-135
.473
T-29
Cincinnati Bengals
121-135
.473
31
Tennessee Titans
119-137
.465
32
Houston Texans
116-140
.453
If you're curious about the scheduling formula, here's how the NFL does it. Under the formula implemented in 2002, every team plays 16 games as follows:
Home and away against its three division opponents (six games).
The four teams from another division within its conference on a rotating three-year cycle (four games).
The four teams from a division in the other conference on a rotating four-year cycle (four games).
Two intraconference games based on the prior year's standings (two games). These games match a first-place team against the first-place teams in the two same-conference divisions that the team is not scheduled to play that season. The second-place, third-place, and fourth-place teams in a conference are matched in the same way each year.
Beginning in 2010, a change was made to how teams are paired in the schedule rotation to ensure that teams playing the AFC West and NFC West divisions would not be required to make two West Coast trips (e.g., at Los Angeles Chargers and at Oakland), while other teams in their division had none (e.g., at Kansas City and at Denver).
Finally, here's a link to a list of every home and away opponent that each team will play in 2018. The time and dates of each game will be released in the spring.
https://www.cbssports.com/nfl/news/nfl- ... -32-teams/
---
I never understood the strength of schedule as a predictor. It makes sense in review to see which team had the hardest/easiest schedule but it doesn't really mean anything for next year.
--- ---