i have to admit that after going to the rams first playoff game ( and meeting you in person, yay!) that losing was so devastating to me, that when i loaded the RFU site i got bummed every time i saw the "PLAYOFFS" opening banner... i have to admit i wanted that to go away...

now im really glad you left it up.. im proud of my rams for getting as far as they did, and have moved foward from that gut wrenching loss...

keep up the great work.. in spite of how us jerks ebb and flow with our rams...

solid site.. and i love it...

go rams

slo
---
this is all A-1's doing...


Elvis,,
---
THE GREATEST SHOW ON TURF, WAS
THE LOS ANGELES RAMS RIDE AGAIN
---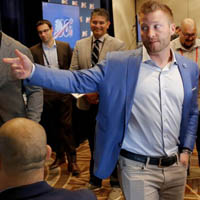 by
Elvis
6 months ago
Total posts: 17120
Joined: Mar 28 2015

Los Angeles
---
Yep, good or bad, it's A1's doing. And it's all good from where i'm sitting...
---
yeah, the playoff banners have probably run their course, but i liked the graphics so much that i just left them up, that and because i've become rfu lazy since the season ended, ha ha.... so whadya think, a single "nfc west champs" type of graphic until camp or like rolls around? multiple rotating images that we've shown in the past? someone mentioned that one great shot from every game would be cool, and i agree, but at the moment i don't really have the time to track down an awesome hi rez image from every game that would be worth using, but if someone wants to tackle that i could then just add the code to display them, maybe divvy up the process between 4 guys, each guy assigned to coming up with a great hi rez image from 4 games?
---
nfc west champs would be awsome..

im still pretty proud of our rams, and the way they competed with the upper echelon teams when all the doubters took forever to get on board...

those playoff banners are pretty sweet... it was like i said, the shock of not winning at least one playoff game, i personally wasn't ready for that, i had a much longer run scheduled, lol...

keep up the good work and lets get ready to defend our title!...

go rams

slo
---
A1. I'd love to help on your pic thing, but is the option find pics, or make them quality to post? I don't know how to do that part.
---
When you get to Helllll, John. Tel em Daisy sentcha.
---
RedAlice wrote:A1. I'd love to help on your pic thing, but is the option find pics, or make them quality to post? I don't know how to do that part.
hey there ra... it's actually all about just finding hi rez pics, once we have them we can crop them to size, clean them up, add some lighting and saturation, etc., but before we can do this we need a high quality pic, can't do much with low rez or small pics, garbage in garbage out sort of thing.... anyway, no need to worry about whether or not the pic fits the rfu banner dimensions, we can crop them, we just want BIG!
a good start is using google image search along with the google image search filter (example: tools > size > large or tools > size > larger than).
another good starting point is finding an obvious site that would have nfl photos, including the rams official site... once you find a photo you like, right click it and select "view image info"... once the "view image info" window is launched, find the pic's url, copy it, and paste it into a new tab... once done you can often play with the url which often limits the image size, you can remove the resolution restrictions from the url or add your own resolution which will give you a very large, quality image... doesn't work all of the time, but when it does it's great for banners...
here are some sites you can do the above with, of course there are a ton more...
https://www.turfshowtimes.com/archives/1
http://www.latimes.com/sports/rams/la-s ... story.html
https://www.si.com/nfl/2017/11/26/rams- ... vin-kamara
---
Yeah , just 1 great shot from each of the 17 games would be great. I'll look for some when I get two minutes to rub together.

@aeneas1, I remember you posting quite a few good photos here mid / late season. You were changing the headers frequently. Some of those were solid.
---
THE GREATEST SHOW ON TURF, WAS
THE LOS ANGELES RAMS RIDE AGAIN
---
by
dieterbrock
6 months ago
Total posts: 8064
Joined: Mar 31 2015

New Jersey
---
I love that the thank you threads pop up often. I'm full of gratitude for this place and like that the sentiment is shared. Elvis for starting it, A1 for adding his tech advancements, Red Alice and H64 for the add on games and both of the Hacks for the moderation and of course all of our great posters who keep the conversations interesting. Just an awesome place.
Unfortunately due to my recent job switch, I can't access much on my work Laptop and do most of my surfing on my iPhone so I am not much help in the way of finding these pics. Can't say I don't love all the new ones though!!!
---