sloramfan wrote: it was like i said, the shock of not winning at least one playoff game, i personally wasn't ready for that, i had a much longer run scheduled, lol...

Losing in the playoffs is a funny thing. The deeper you go in the playoffs, the more disheartening the loss. Taking the loss in the Super Bowl is the worst. To this day, I can't watch the 30 minute highlights of the RAMS/PATS SB. However, I can handle the RAMS/STEELERS SB...maybe time does the trick, though seeing all those names from the 70s is part of the cool factor of re-watching those highlights.
Losing in the first round showed us we still have a few things to tidy up before the 2018 season. We got the right people in command to get it done.
As for RFU...definitely, a 4 Scooby Snack rating.
---
Rollcage rescue: driver was unhurt. A little punt on
your rear is all it takes. If you drive a ragtop on the
street think rollcage or, at least, rollbar...unless
you have really strong neck muscles.
---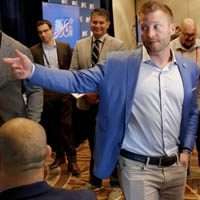 by
Elvis
3 months ago
Total posts: 15952
Joined: Mar 28 2015

Los Angeles
---
It was weird being done so soon. I'm used to winning the week after a disappointing loss, no such opportunity in the playoffs.

I had a bad feeling about the Falcons game but i've had a bad feeling about several games that we won, like the Saints for example.

Thinking about it, the Rams haven't been a team that can win an important game against a good team that also needs the game since probably 2004 when we beat Seattle in the playoffs.

So it's been really hard for me to think of the Rams that way again. But in 2017 we were definitely a team that can win an important game against another good team, like the games in Seattle, Jacksonville and Tennessee for example.

I'm still getting used it...
---
12 posts
It is currently May 22 2018