an absolute beast of a man and his super sweet significant other lunched at my joint this afternoon, they were on a leisurely two week highway 1 road trip to vancouver, stopping along the way to see the sights.

my brother, who recently joined my staff, said the guy on table 8 is looking for you, says he's here to collect some money you owe, i looked over and saw the giant and just laughed, while pitying the poor soul who ever did him wrong. then my bro, who had been taking care of them, went up and said "listen, i hate to be that guy, and please don't take this the wrong way, but you have to be an nfler"... the guy just laughed and said yeah, i play defensive tackle and some end for the atlanta falcons.

he then got up and came over to the bar where i was standing and said so you're a football fan too, and we just started talking pro football, for about a half an hour, just the nicest friggin' guy in the world, and his girlfriend joined the convo too, an absolute doll.

anyway, i had never heard of the guy, his name was jack crawford, who i had to google when he left... he was drafted in the 5th round by the raiders, out of penn state, never saw a lot of action with the raiders, was waived after 2 years, the cowboys picked him up, and he ended up starting 11 games in his final year there, then he signed a 3-year deal with the falcons in 2017.... it's amazing, just 12 starts in 5 years as a pro, 11 came in his final year with the cowboys in 2016, and the falcons sign him to a 3-year $10 million+ deal, with $3.5 million guaranteed in 2017. not too friggin' shabby... i will say, a $3 million pay out for the 2017 season couldn't have happened to a nicer guy. and he left a $30 tip on a $48 tab, ha ha.

anyway, i asked him about camps and practices, if he thought they were different from team to team, he said beyond different, night and day, said the cowboys was by far the hardest (compared to the raiders and falcons), said they love to run the players to death (reminded me of the recent patriots article), and he added that they have the cba down to a science, that they get the absolute max hitting, pads and time on the practice field that the agreement allows.

interestingly he's from london, a thick british accent, said he was never really into sports but loved watching nfl football as a kid, and when he came to the states the plan was to play basketball because of his height (he's listed at 6'5" but i'd say he's 6'6" at least, he's a tall dude), but he got a shot at playing football and ended up getting a football scholarship to penn state.

i asked him if he was familiar with pro football focus (because the pff founder is from london as well, who never really played sports, but fell in love with nfl football too as a kid) - his face cringed as he said yeah, and then added they don't know what they're doing, they act like they know play responsibilities/assignments when they grade, and they don't, ha ha... but he added that coaches and nfl people pay a lot of attention to pff (fwiw, pff has graded crawford poorly every year he's been in the league).

also, he wore a flat-billed atlanta falcons cap pulled all the way down just above his eyes, thought it was just a fashion statement, but when googling his name i discovered he has alopecia, and as a result no eyebrows, so my guess is that he's self conscious about it, and was covering them.

anyhoo, it was a fun chat, with a really nice guy...



---
Great story. Thanks for sharing.

It's too bad that PFF isn't more accurate. Would really like to be able to depend on something like that but it isn't a surprise. As Jim Mora once said, you think you know, but you really don't.
--- ---
Good stuff A-1..
So when he got up to come over, didn't you question for a second if your bro was telling the truth about about the guy coming to collecting a debt?

haha
---
THE GREATEST SHOW ON TURF, WAS
THE LOS ANGELES RAMS RIDE AGAIN
---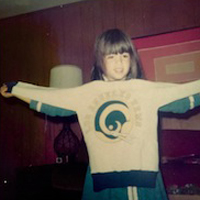 by
maxxx power
6 months ago
Total posts: 946
Joined: Jan 13 2016

Norcal
---
I can attest that the pizza at your place is awesome. The owner is just ok though.
---
Self-Appointed Rams Historian
---
Very enjoyable post A1!

Would love to check out your establishment some day.
---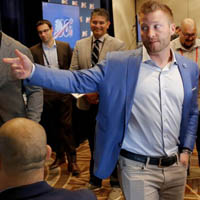 by
Elvis
6 months ago
Total posts: 17124
Joined: Mar 28 2015

Los Angeles
---
You guys are twins right? I feel like there's a great idea for a TV show in here somewhere...
---
So A1 is canoodling with a Falcons dude...a team that bounced our guys out of the playoffs. What's next...A1 displaying San Francisco 49er memorabilia inside his eatery? Color me unimpressed.
---
Separated when they were young, the boy
grows up to become a matador where he is to
face his former pet in the bullring. They flee
to the safety of the countryside...
where they rob unsuspecting tourists.
---
Elvis wrote:You guys are twins right? I feel like there's a great idea for a TV show in here somewhere...
my twin found love and moved to florida, i wanna puke whenever he sends me photos of their beautiful new home, which cost about the equivalent of a down payment for half the house in my neck of the woods, ha ha.... but, hey, he's in florida and i'm northern cal... the guy who joined our ranks is my younger bro, awesome guy, recently divorced and in the process of deciding what he wants to do next, told him to take a break from teaching (connecticut) and come out here for a year, that i would put him to work and he'd have a fun time while weighing his future options... he's always loved this area so he jumped at it, plus he now makes considerably more than he did teaching, he always laughs and shakes his head when he gets his paycheck and factors in the tips he made, can't believe slinging brews and 'zas pays so much better than teaching, plus at the end of the day he gets to take home a wood fired pie, not work, ha ha... added bonus, he's the new single male in town, a small town, so he's been getting a lot of female attention, ha ha, small towns, gotta love 'em....
TomSlick wrote:So A1 is canoodling with a Falcons dude...a team that bounced our guys out of the playoffs. What's next...A1 displaying San Francisco 49er memorabilia inside his eatery? Color me unimpressed.
you know what, i had blocked that loss out so entirely that it didn't even occur to me to ask him about that game, then again he was ir'd halfway through the season so he didn't play, altho he might have been on the sidelines... funny, when i think of the rams 2017 season it's all about their incredible jump from 4-12 to 11-5, the tremendous turnaround on offense, mcvay's success and making the playoffs for the first time in eons, the first round playoff loss doesn't even register...
---