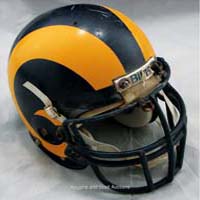 by
RamsFanSince82
3 months ago
Total posts: 4649
Joined: Aug 20 2015

So. Cal.
---
I don't think the Rams will have enough money to do all of the things that Vinny wants them to do (release Austin and Barron, re-sign all of the main free agents, AND sign Eifert, and Ansah). I like Tru, but I would be surprised if he's re-signed. I'd pass on the very injury prone Eifert and give Everett more time to develop.
---
Everything hinges on a few things:
A. Which players do the coaches want almost regardless of $
B. How shrewd/creative is Snead at crafting restructured contracts for Quinn/Barron if indeed the RAMS want them and the players really want to be part of a legitimate SB run window
C. How shrewd/creative is Snead at re-signing Watkins, Tru, Sullivan again if both parties are really interested
D. How much will the market impact B and C,
E. Are there similarly talented alternatives for these players available in F/A or trade that have better impact on the cap. E1. - Which younger players on the roster are ready/able to fill these positions with little to no drop off.
F. How does Donald deal get done through all this and how are you set up for Goff/Gurley in the very near future?

Personally, the restructure game is step one for me with Quinn first, then Barron - you could approach Tavon as well but I don't think McVay sees him as a good fit. Free up more cap space while retaining those you deem most integral to future success - especially over the next 2-3 seasons. That way you keep familiar players in place while freeing up cap space to re-sign other in house/familiar players and/or get replacements for them if necessary and available. Concurrently, work on re-signing Tru, Sullivan, Watkins, Joyner, if you want tot retain those players and if the price is feasible. Use the Tag on Joyner not Watkins as we at least have WRs in our own system behind Sammy; we have squat behind Joyner and he player at an all-pro level last season.

I do like getting Anzah from the Lions, pass on Eiffert (we have TE's that are developing and I believe will be very much improved as a whole next season). If we lose Tru, go after Butler as he will probably be cheaper, but not quite as good, and will have a huge chip on his shoulder after the SB debacle. I think Sullivan will take a friendly deal and stay with the Rams 1-2 more seasons.
---
22 posts
It is currently Jun 20 2018