http://www.nfl.com/news/story/0ap300000 ... d?campaign
Ranking NFL coaching hires: Jon Gruden, Matt Patricia top board
By Adam Schein
NFL.com Columnist
Published: Feb. 13, 2018 at 01:47 p.m. Updated: Feb. 14, 2018 at 01:44 p.m. 0 Likes | 0
Finally, all seven NFL head-coach openings have been filled. The contracts have been signed. The ink is dry. Nobody can pull a McDaniels.
Honestly, I like the whole group. I think each guy represents an upgrade for his new franchise. But who's at the head of the class? Below, I've supplied my personal rankings. Something tells me some of you will have differing opinions ...
Let the debate begin!
1) Jon Gruden, Oakland Raiders
Previous job: "Monday Night Football" analyst.
Gruden is worth the 100 million bucks to the Raiders, on and off the field. The guy's an offensive guru and a rock star -- two characteristics that are absolutely crucial for this franchise at this moment.
Derek Carr got my AP vote for NFL MVP in 2016. But this past season, his production regressed across the board. I think injuries played a part there, but Carr just didn't look like himself. Consequently, the Raiders' entire operation sagged and underachieved, following up the breakthrough 12-4 campaign of 2016 with a 6-10 dud. Oakland ranked sixth in total offense and seventh in scoring in 2016. In 2017? Those marks plummeted to 17th and 23rd. Gruden brings an energy, a major jolt. It's one the entire team needs, but Carr and the rest of the offense will especially benefit, given Gruden's offensive savvy. He will instantly get the 26-year-old quarterback back on track and lift the offense back into the ranks of the elite.
On the star-power front ... Gruden pacifies the jilted fan base in Oakland, where he's a legend from his previous stint with the franchise. And he will be the face desperately needed when the team moves to Vegas in 2020. It's perfect.
The Raiders are back!
2) Matt Patricia, Detroit Lions
Previous job: New England Patriots defensive coordinator.
Matt Patricia is not Bill Belichick. He made that abundantly clear during his highly impressive introductory news conference in Detroit. Patricia learned from Bill. He's brilliant like Belichick. He obviously will look to enact the winning culture at his new spot, but he's not going to fall into the trap of faux-Belichicks like Eric Mangini and Josh McDaniels, who both flamed out horribly as head coaches. Patricia knows that he has to be his own man, do things his own way.
I've long admired and respected Patricia. He gets it. Don't read too much into the Super Bowl follies; Patricia is a brilliant defensive mind who got the Pats' talent-poor unit to overachieve for the bulk of the season. And I love that he retained Jim Bob Cooter to run the offense. That's big, as the coordinator clearly has a great rapport with Matthew Stafford.
I'm a huge Matt Patricia fan and believer.
3) Frank Reich, Indianapolis Colts
Previous job: Philadelphia Eagles offensive coordinator.
Chris Ballard bounced back from Josh McDaniels' weaselly move quite admirably. No surprise to anyone who watched the Colts general manager's news conference directly following McDaniels' stunning about-face, something Ballard handled with grace and aplomb. And frankly, when it comes to character and organizational collaboration, the Colts did better on the final hire.
Reich is a gem. He worked wonders with Carson Wentz, Nick Foles and the Super Bowl-champion Eagles. Philip Rivers loves him. So does Bill Polian. Andrew Luck oozes the same talent as Wentz, and if/when the QB returns to the field, Reich will have Luck doing the same kind of magical things. Not to mention, this is a homecoming of sorts for Reich, who worked as a Colts assistant under Tony Dungy and Jim Caldwell. The great Peyton Manning vouches for him.
I love the Colts' rebound here, but honestly, I love the hire in isolation.
4) Steve Wilks, Arizona Cardinals
Previous job: Carolina Panthers defensive coordinator.
Wilks dazzled myself and the audience during a late-January appearance on my SiriusXM Radio show, "Schein on Sports." Easy to see how he wowed the Cardinals brass during the hiring process. This 48-year-old defense-centric coach is all about winning and attention to detail. His passion for the game is infectious. Perfect for the Cardinals right now. Arizona has a lot of talent, particularly on defense. But the Cardinals weren't so buttoned-up over the last two seasons. Wilks' no-nonsense style will get the train back on the tracks.
Wilks' first order of business: finding a quarterback. No easy task as a first-time head coach. Fortunately, he has a sharp GM in Steve Keim to spearhead that process.
5) Matt Nagy, Chicago Bears
Previous job: Kansas City Chiefs offensive coordinator.
I love the thinking behind this hire. Yes, the former Chiefs OC is fresh off one of his worst performances -- a home playoff loss to the Titans where Kansas City blew an 18-point halftime lead, thanks in part to Nagy inexplicably abandoning Kareem Hunt after the break. But like I said with Patricia, you can't judge a guy off one game. Nagy is well-respected in league circles. And most importantly, Ryan Pace needed to hire someone with experience maximizing the quarterback. Nagy fits the bill brilliantly. Alex Smith just enjoyed a career year under Nagy's watchful eye. With Nagy in Chicago, expect Mitchell Trubisky to make a sizeable leap in Year 2.
Nagy put together an all-star coaching staff. Retaining Vic Fangio as the defensive coordinator was a must, and Nagy sealed the deal. Furthermore, he brilliantly pilfered Harry Hiestand from Notre Dame to run the Bears' offensive line. Think about what this staff can do with Jordan Howard and Tarik Cohen. (See: Nagy's work with Kareem Hunt and Tyreek Hill in K.C.)
Now it's on Pace to get Nagy players on a paper-thin roster with arguably the worst receiving corps in the league.
6) Pat Shurmur, New York Giants
Previous job: Minnesota Vikings offensive coordinator.
Don't let the ranking fool you -- I really like the Giants' hiring of Shurmur. He needs to do a better job dealing with his players and the media than he did during his prior head-coaching stint in Cleveland. The safe guess, after talking to people who worked with him in Minnesota, is that he will. And Shurmur's work with Case Keenum this past season speaks volumes. I thought the Vikings would completely fall apart after dynamic rookie Dalvin Cook tore his ACL in Week 4. Not so much. Shurmur got the most out of Cook's replacements, Jerick McKinnon and Latavius Murray.
Now, Shurmur needs an offensive line and run game in New York. I'll be honest: I do NOT like the hiring of Mike Shula as offensive coordinator. His Carolina tenure was marked by underachievement. Don't really see how he helps Shurmur's offense in New York. But I guess that's a crucial point there: It's really Shurmur's offense, as the head coach is expected to call the plays.
In the bigger picture, Shurmur needs to clean up Ben McAdoo's mess, which means accountability and attitude, especially on defense.
7) Mike Vrabel, Tennessee Titans
Previous job: Houston Texans defensive coordinator.
I like Vrabel. Really. I like him much more than Mike Mularkey as a head coach. And I loved his choice of Matt LaFleur to be the offensive coordinator. When I talked to Marcus Mariota on CBS Sports Network, he was energized by it all. And he should be. The Titans were wildly inconsistent last season ... but still good enough to make the postseason and win a road playoff game. With a steadier hand at the wheel, this team has plenty of promise.
So, again, I like the Vrabel appointment here. I just like the other hires more.
Follow Adam Schein on Twitter @AdamSchein.
---
Elvis wrote: Patricia is a brilliant defensive mind who got the Pats' talent-poor unit to overachieve for the bulk of the season.
"could have been a rocket scientist" is not a cliché for this Patricia ... it is literally true ... I will be watching closely how things go for him.
McVay seems to be an offensive savant who applied coaching skills-discipline through interning for Jon Gruden.... and will be a better offensive mind than Gruden.
Both McVay and Patricia have yet to take the Doctoral HC exam that Mike Martz failed at. It will be enjoyable to watch their careers unfold over the next 5-10+ years.
---
by
aeneas1
6 months ago
Total posts: 6733
Joined: Sep 13 2015

Norcal
---
BobCarl wrote:"could have been a rocket scientist" is not a cliché for this Patricia ... it is literally true ... I will be watching closely how things go for him.
the success the pats have seen on defense over the last 5 or so years has been overlooked imo because of that offense and brady, but it's been tough as hell under patricia, top 10 in offensive points allowed 5 of the 6 years he's been dc.
here's a look at the pats' offensive and defensive coordinators dating back to 2001, when brady became the starter... also included is where the pats' ranked in offensive points scored and allowed each season as well as the number of wins they booked, an asterisk indicates a super bowl year.
interestingly patricia started as an offensive guy his first two years with the pats, as an offensive assistant in his first year and then an oline assistant the next year. also, weiss is the only pats coordinator since 2001 who didn't start his nfl career with the pats or didn't have an nfl connection with belichick as far as i can tell.... pees, o'brien, mcdaniels and patricia all started their nfl careers with the pats, crennel worked with belichick for 10 years while both were with the giants, and mangini worked with belichick for a year when they were both with the browns.
o'brien seems to be an interesting story... after four years as an offensive position coach for the pats he was promoted to oc in 2011, a slot the pats had left vacant for two years after mcdaniels left town... the pats finished 3rd in offensive scoring that year and reached the super bowl, yet o'brien jumped ship after just one year as the pats oc to take a job as hc for penn state.
---
Patricia may be a smart guy but it's hard to credit him for the Patriots defense when Hoodie's been there.
--- ---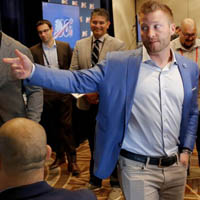 by
Elvis
5 months ago
Total posts: 17124
Joined: Mar 28 2015

Los Angeles
---
Elvis wrote:
And the Fisher wake keeps bearing fruit all over the NFL
Groh is a good coach, I hope he gets the gig.
---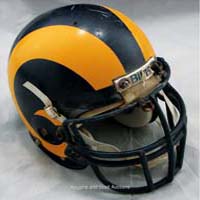 by
RamsFanSince82
3 months ago
Total posts: 4775
Joined: Aug 20 2015

So. Cal.
---