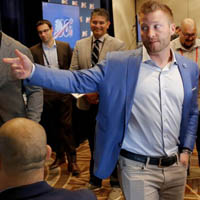 by
Elvis
6 months ago
Total posts: 17120
Joined: Mar 28 2015

Los Angeles
---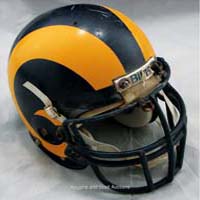 by
RamsFanSince82
6 months ago
Total posts: 4773
Joined: Aug 20 2015

So. Cal.
---
I love his attitude. He's always very positive.
---
I wonder when the target date is to return to the field? I can't imagine he would be ready for the start of training camp but who knows these days with the medical advancements.
---
I don't think he needs to be ready for training camp. I am hoping he comes back totally healthy a couple weeks before the season starts. should only take him that long to shake the rust. We need 1-2 quality corners this offseason regardless. Even if we re-sign Tru and NRC.
---
I like the kid a lot.
Coming back from an achilles? Not likely.
---
Dick84 wrote:I like the kid a lot.
Coming back from an achilles? Not likely.
I am curious.
Why do you say that with such certainty?
---
Hey, an Achilles tendon is a tough one. Full tear, you are questionable period. Partials can heal but they are always sore and the healing process takes the stud edge off.

Look forward to knowing his prognosis.
---
THE GREATEST SHOW ON TURF, WAS
THE LOS ANGELES RAMS RIDE AGAIN
---
Double post.

I hate doing this on an iPad.
---
Everything I read about his injury there is a a greater likelihood than not he will be back. The question for him because of age is not if, but when.

Because he had surgery there is less of a likelihood he gets that injury again.
---
I don't have a great frame of reference for NFL players.. but NBA players I've seen lose a bit of their athleticism, for sure.
---