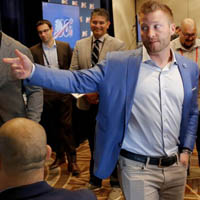 by
Elvis
1 year ago
Total posts: 17091
Joined: Mar 28 2015

Los Angeles
---
Joe Curley, @vcsjoecurley , was cool enough to do a Q&A with RFU about what it's like to cover the Rams. And Joe did it while on vacation. Joe went above and beyond and it's much appreciated: Thanks Joe!
Hi Joe, thanks for doing this. We at RFU really appreciate your coverage of the Rams. You're usually first when live tweeting Rams events and your local coverage of Rams goings on from the Conejo Valley to Oxnard/Ventura is a great resource for us too.

So, questions:
1. Tell us about your background, what were you covering before you got the Rams gig? Were you an NFL fan? Did you have a team? Any personal Rams history?
I grew up back east, but I've basically been in Southern California since the mid-1990s, when I arrived at Pomona College as an undergrad. I grew up in a family split between the Patriots and Raiders. I had a cousin who was a linebacker with the great Raiders teams of the 1970s. One of the rites of fall was hearing my grandfather complain that that Cowboys (rather than the Raiders) were being televised in the late Sunday window. My family comes from Springfield, Mass., the same place as the Rams' great offensive lineman Joe Scibelli, so there are some longtime Rams fans there. I still remember watching my dad play in the local touch football league for a team called the Rams, which was sponsored by a local bar. I'm sure that's because of the affinity people had for Scibelli and his team.
2. How strong is the Rams fan base in the Conejo Valley and VC? Is there a lot of competition from Raiders and Cowboys for NFL fandom?
We do have a couple diehard Rams fans on staff who I like to bounce ideas off of. But I'd have to admit it was pretty invisible before the move, at least since the GSOT days. The outpouring of support when the Rams came to Oxnard to practice the Cowboys in 2015 was very impressive – it set the stage for the move – although it wasn't just local fans who came out. The Cowboys and Raiders, as well as the Rams, historically have big followings here. The Cowboys tradition of holding training camp here, first in Thousand Oaks and now in Oxnard, has formed a bond. But you can now see the results of having the Rams here over the past year. It feels like I see someone wearing Rams gear every time I leave the house. They're coming out of the woodwork now. I've interviewed locals who held season tickets when the team was first at the Coliseum, locals who flew to St. Louis to support the team, locals who love having the Rams as next door neighbors. There's a local youth football team which has changed its name to the Rams. There's a lot of interest in seeing the Rams facility at Cal Lutheran. People loved it recently when the team opened up the facility for a high school passing tournament. There's coaches I've known for years, who had never talked NFL with me, now sharing they are long-time Rams fans. So you can see how just having the Rams in the community can make a difference.
3. I know this is a broad question but what's it like to cover the Rams? Do you spend a lot of time at CLU? What do you do when you're not physically covering the Rams? Do you spend all your time as a reporter on the Rams and Rams related stories?
I have a lot of responsibilities at the Star, including social media and video roles on top of the daily reporting. I've covered colleges and soccer there for 17 years. I've covered everything from the World Cup to USC and UCLA football and basketball to the high school sports. When I covered last year's Rams preseason opener, it meant I had finally covered a game in all major US sports leagues. So that was a cool. Although, honestly, I love covering all levels of sports. We do a ton with high school football, which is very popular. We're now part of the new USA Today Network, which means we can contribute to their coverage and properties. I'm currently working on the Rams preview magazine for USA Today Sports Weekly. It's a lot, but I really enjoy my job and where I do it. Ventura County is a special place, as many with the Rams are discovering over the past year. I split my days between the office, the Rams facility and other events. The general flow of an NFL week is different than other sports. Last year began with a Monday night press conference with coach Fisher. From there, I always tried to make it over for his Monday night coach's show at the Westlake Village Inn, since it was nearby and the Conejo Valley Rams fan group was always in attendance. Practice was on Tuesdays, Wednesdays and Fridays, although that seems likely to change this fall. The players' day off is expected to shift from Thursday to Tuesday under coach McVay, so my schedule will change as well. I make sure to be at every practice unless there's a news event breaking elsewhere where I'm needed. You'll know I'm absent if my twitter feed (@vcsjoecurley) is silent. I really try to use that as my connection to Rams fans around the country, whereas my work for the paper is geared towards our readers.
4. What kind of access do you have? Is there generally stuff you see/know that you're not allowed to report or do the Rams pretty much only show you what they want you to report on?
Well, the dynamic may be shifting because of the new staff, but there was an understanding under coach Fisher that the media was allowed to observe practice as long as it didn't report on details that would put the team at a strategic disadvantage on game day. That was a bit of a learning curve. Of course, you're not going to report on the trick play you saw in practice. But it can be a little bit of a gray area when you're talking about injuries, like how a banged up player moved during practice. So there is a bit of a push and pull with the team regarding information. But the media relations staff are also very helpful and professional. I consider myself a link between Rams fans and the team, so I try to ask myself what I would want to know today, if I was a Rams fan and that's the information I try to report. Sometimes I'll even use my Twitter account to ask my followers what they would like to know that day.
5. Any word on the Rams search for a permanent training facility?
Kevin Demoff has had a lot on his plate over the past 12 months. The search for a permanent facility appears to have been put on the back burner while the team has dealt with the move, the season, the coaching change, ect. Although that may be changing now that the team appears to be in good hands, from a football perspective. I know the team met with officials from the City of Thousand Oaks late last year, when the city wanted to present some options. The city has announced the Rams finding a permanent home locally as its primary priority going forward. We'll see where it goes. If you look at what the Cowboys have done with their new facility in Frisco, which includes a stadium that local high schools can use, it's hard not to get excited about what the facility might be, if a suitable location can be put together That's certainly a story we're interested in tracking.
6. By all accounts things are going great with McVay so far: Players are buying into their new very young head coach. Snead and McVay love each other. Everyone is saying all the right things. Is that hype? Is it real? Can you tell?
As coach McVay has said several times, he's still undefeated. The real challenge will come when the season arrives. The offseason is laying a foundation that, the Rams hope, can withstand the trials and tribulations of an NFL season. We'll only know if the McVay-Snead bromance is real if and when it withstands a real disagreement on a player. Certainly, the players have been impressed with McVay. Several players, including Aaron Donald, have said the new head coach has a grasp of the game they've never seen before in their careers. That's promising. Personally, what I think made the McVay hire possible was the availability of Wade Phillips. The gamble on the youngest head coach in modern NFL history is significantly reduced when you're also bringing in one of the more experienced coaches in the NFL to run the other side of the ball. McVay is definitely an expert in communicating the game to the media, to his players, to team officials. Whether that translates to wins, as most everyone expects, won't be revealed until the fall.
7. Does anyone really know what kind of team they have, what kind of season it will be? Can you tell as a reporter covering the Rams what kind of season they're likely to have? Do you think the players, coaches and organization can? For example: Was last year's disaster apparent early on or did it genuinely play out in real time?
That's a great question. I think the NFL, moreso than any other major American sport, can go either way for nearly any team entering a season. The league is designed to be so competitive, and health is so important and yet so volatile, that there are a wide range of potential outcomes for most teams. One of our traditional roles as reporters is to canvas the fans and the team and set the expectations for a coming season. This time last year, there was a lot of optimism entering training camp. My personal expectations for last season was somewhere south of 8-8, primarily because of history. No team, barring strike-shortened seasons, had made the playoffs off a move in more than half a century. I was on record as saying an 8-8 season would have been a significant achievement. And we all know how it played out. The offensive failures really kept the team from capitalizing on strong defensive and special teams units. You saw the results devolve from the tight wins of September to the tight losses of October to the ugliness of November and December. Taking last year as an example, I don't think you can really look at an upcoming season in simple terms. So much happens, and much of it is unexpected, that it really does play out in real time. That's why we love sports. It's unpredictable. We can use recent history to set expectations, but if we really knew what was going to happen we could all quit our jobs and go to Vegas.
8. What's your take on the upcoming All or Nothing from Amazon? Are you in it?
Naturally, like so many others, I was pessimistic, considering NFL Films had already done Hard Knocks and the season didn't seem worthy of another look. From a Rams perspective, so much of the last six months has been about putting the past behind the team and looking forward. I enjoyed the first season of the show, but I assumed the second season was going to be a waste. Wow, was I wrong. Showrunner Keith Cossrow, director Shannon Furman and the whole team did a tremendous job of capturing the humanity of an NFL team, during such a trying season. I think it's a significant improvement over the first season and the best parts came later in the season as the team struggled. It may be a tough watch at times for Rams fans, but it's definitely worth the six-hour time investment. Yes, I provide some of the background for the show. Although that may be a reason to skip the series.
9. Is Toppers as good as everyone says it is?
Do you trust your All-Pro punter or not? If it's good enough for the Hekker family, isn't it good enough for yours? Seriously, though. I don't want to build it up so high that people will trek from south Orange County. I'm not saying it's "sit your family in traffic for three hours" pizza. But if you are hungry and in Ventura County (locations in Ventura, Oxnard, Camarillo and Thousand Oaks), Toppers does the trick and does it well. As does Tony's Pizza in Newbury Park, another of my favorites. I've also turned the All-Pro punter on to Establos, which is a small family-owned Mexican carniceria in Thousand Oaks and Camarillo that is a hidden gem locally. If you have any more questions about the food up here, follow my Ventura County Star colleague Lisa McKinnon on Twitter (@805foodie). She's the best.
---